Bio-augmentation is the addition of specifically formulated microbes to a waste situation. It is done in conjunction with the development and the monitoring of an ideal growth environment, in which these microbes can live and work. It allows one to control the nature of the biomass. Bio-augmentation ensures that proper microbes are present in the waste situation in sufficient type, number, and compatibility to attack the waste constituents effectively and break them down into their most basic compounds, such as carbon dioxide gas (CO2), and water.
EnviroWay products merely assist Mother Nature by adding suitable amounts of specific bio-enzyme products to speed up the process. For waste digestion, microbial products should have several identifiable characteristics that are important to introducing bacterial action into any systems that include the ability to:
Digest organic waste quickly and completely, without causing odorous or noxious gas.
Not cause disease in humans or animals (non-pathogenic).
Grow and reproduce readily in the environment conditions or organic waste.
The bacterial population cannot increase indefinitely. At some point, the food source will be depleted or a change in the environment may occur causing the population to plateau or decrease. These environmental changes can be pH, temperature, or oxygen content in the environment. Reintroduction of new microbes into the system is then required to maintain the desired level of organic waste degradation.
EnviroWay Products are specifically designed for optimal biological performance and all bacterial strains comply with the Canadian DSL (Domestic Substance List). EnviroWay blend of products are the result of a long-term research and development effort and years of experience in utilizing bio-augmentation to solve waste and wastewater problems.
Biozyme – for Aerobic Treatment
Biocrobe – for Anaerobic Wastewater Treatment
Bio FOG Digestor – for Fat, Oil & Grease Removal
Bio Nutrients – Rich in Nitrogen & Phosphorus
Bio-shield – to Reduce Sludge Volume
Bio Drain – for Drain Maintenance
Bio Pond – for Lakes & Ponds
Bio Brick – for Grease Trap
Bio Tab – for Toilets
Bio-composting – for Degradation of Solid Waste
EnviroWay Fresh – for Fragrance
EnviroWay Odour Terminator – for Odour Removal
EnviroWay Urinals Tabs – for Urinals
Water Treatment Chemicals
EnviroWay chemicals are used to treat a broad spectrum of water and waste water challenges and are offered in a variety of concentrations to provide the user with the greatest possible economy, flexibility and end use effectiveness. To ensure the best possible results from the use of EnviroWay products, technical assistance is always available from our product application team.
EnviroWay water treatment chemical products are the result of a long term research and development effort and years of experience in utilizing chemicals along with bio-augmentation to solve water and waste water problems. Below, the different types of water treatment chemicals we provide:
Neutralizing Agents (pH Conditioners)
Oxidants
Coagulants
Flocculants
Antifoams & Defoamers
Disinfectants
Corrosion Inhibitors
Oxygen Scavengers
Scale Inhibitors
Resin Cleaners
Chemicals For:
Boilers, Cooling Towers, RO, DM Plants, Softeners & Swimming Pool
DAF & Sludge System
Nutrients for Aerobic & Anaerobic System
Water Testing Lab Chemicals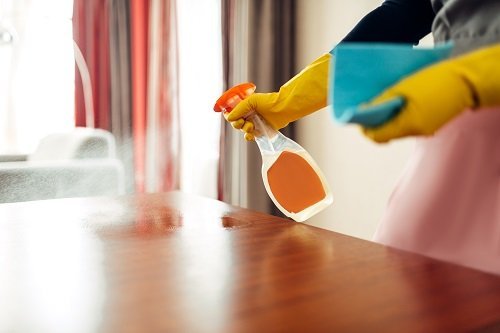 EnviroWay's full range of scientifically formulated, high performance speciality chemicals are used successfully around the world in many of the most demanding cleaning process where they help to maximise performance and reduce costs. Our most concentrated environment friendly chemicals are more effective than is generally available and can offer significant savings when compared to other products depending upon their applications. The role of EnviroWay Bioscience research teams is to put forward, in specific areas, concrete and innovative answers to major cleaning issues identified by the clients
All Purpose Cleaner
Floor Cleaner
Bathroom Cleaner
Sanitizer
Glass Cleaner
Laundry Cleaner
Utensil Cleaner
Degreaser
Machine Cleaner
Metal Parts Protector
Engineering Design Products
Backed by rich industry experience of several years, we are able to provide our clients with technically advanced range of water & waste water designed products as per their requirements. We endeavor to constantly upgrade our design, process, engineering and productivity as a part of continual improvement in our effectiveness & efficiency. Below, are the different types of water and waste treatment engineering products, we design based on our thorough understanding and experience of water management.
Hydraulic Bar Screen
Fat Removal Unit , Oil Skimmer & DAF
Chemical Mixing Tank with Agitator
Tube Settler with Media
Primary & Secondary Clarifier
Aerobic and Anaerobic System
DMF & Softener
MGF & ACF
Micron Filtration & Ultra Filtration
Nano Filtration & Reverse Osmosis
Filter Press, Screw Press & Decanter
We have the in-house capabilities for Designing, Detailed Engineering and Fabricating Engineering Design Products required for Water and Waste Water Treatment